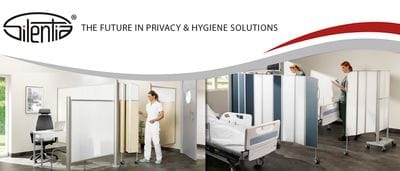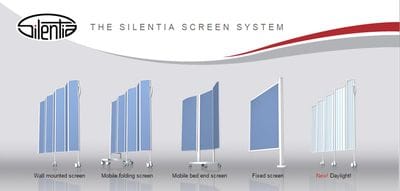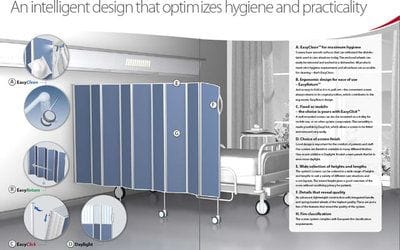 Contact us to place your order or view the complete product range at: http://www.silentia.se/en/
Silentia Silver Line is a patented screening system that was developed to create a more pleasant environment for both patients and staff in hospitals, health care facilities and private clinics.
The clever folding screen is the foundation of the system, and provides a simple method of screening without closing in. The screen is placed between beds in hospital rooms to provide privacy when a patient has visitors or is receiving nursing care, or around a washbasin when a patient is washing.
| | |
| --- | --- |
| | It is also used widely in examination rooms and in intensive care and surgical recovery wards. Silentia Silver Line is a development of the Silentia Screen, which was introduced in 1990 and has been successful in some 30 countries around the world. The new model is the result of a thorough reassessment, during which the design, construction and quality of most components were modified and improved. However, the basic idea remains the same as for its predecessor - and the features of the screen include the fact that it is always on hand, lets in daylight and is easy to keep clean. |
It also forms part of a complete system that meets all care requirements, in terms of fittings, design adaptability and availability of special solutions, such as the model with built-in X-ray shield.
Silentia Silver Line is a development of the Silentia Screen, which has been highly successful since its launch in 1990. The function is the same, but more than 80% of the component parts have been modified and improved in the new version.